California Dental Law and Ethics Examination Study Guide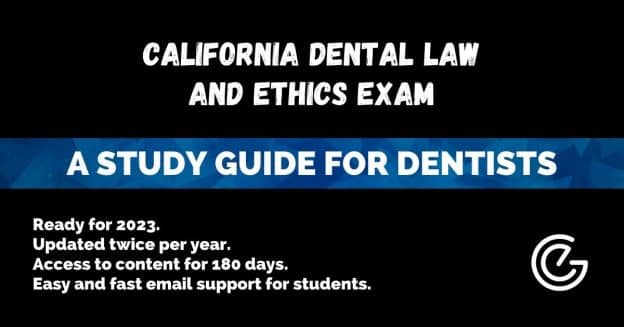 About Course
You have access to the content within this course for 180 days from the date of purchase. Email support is made available for 90 days after purchase.
The exam is difficult for test takers. Please study the material thoroughly to best prepare yourself for the exam. Most of the material you need to know is included in this study guide and it should prepare you well. The study guide is actively updated at least twice per year. You will see "updated + date" at the top of each lesson as we updated them.
---
As a dentist in California, you will learn that California has a lot of laws. Quite frankly, it is impossible for a dentist to be aware of every single law that applies to us as both clinicians and business owners within California. The scope of content that the dental board can pull from for this exam is very extensive and learning every rule that applies to us is not practical. The purpose of this guide is to be representative of the material you need to know to pass the exam.
This study guide is updated several times a year and your feedback is always appreciated by email.
---
I do my best to help each student study for the exam. If you have questions, I try and make myself available by email Monday – Friday and reply promptly even after a student fails the exam. Please keep in mind, that I am practicing dentistry Monday through Friday and often reply to emails at the end of my regular workday. The best email address to use to contact me is [email protected]
---
If you complete this course and still fail the examination twice, you are entitled to a full refund. To receive a refund, you must have completed this course (by passing quizzes and practice exams) prior to your exam date. If, after completing the course, you fail the exam two times, submit a copy of your scores to [email protected] and one of our team members will contact you to initiate the refund.
Show More
Course Content
Introduction to the California Dental Law and Ethics Exam
The Basics
Ethics
Patient Records
Informed Consent
Fictitious Business Names
Prescriptions, Controlled Substances, and CURES
Infection Control
Managing Emergencies
Advertising and Social Media
Billing, Insurance, Co-payments, and Discounts
Associates
Sedation
Miscellaneous but Important
Practice Questions
Frequently Asked Questions from Students
Archived Content